that
worked out) and I got rolling on the cake between Zumba and the school meeting. I knew my brother-in-law was a peanut butter fan so I searched around for a recipe to try (family doesn't mind being guinea pigs) and I came across a Chocolate Chip Peanut Butter Pound Cake on several blogs. It sounded good so I decided to give it a try!
I printed off a recipe from pixelatedcrumb.com and she attributed the recipe to Recipe Girl. I didn't mess with the cake too much - all I substituted was mixed chocolate chunks and chips inside the cake instead of straight chips...and I didn't use the Peanut Butter Glaze - I made a basic ganache and sweetened it up with a touch of powdered sugar and a hint of vanilla.
Here's how it goes:
PEANUT BUTTER CHOCOLATE CHIP POUND CAKE
WITH GANACHE GLAZE
Ingredients:
Cake:
3 cups unbleached AP flour
1 teaspoon baking powder
1/2 teaspoon salt
1 cup creamy peanut butter (note - do not use the natural PB unless you have the no-stir kind)
1/2 cup butter, at room temperature
3 cups granulated white sugar
6 large eggs, room temperature
2 teaspoons pure vanilla extract
3/4 cup semi-sweet chocolate chips
3/4 cup semi-sweet chocolate chunks
Glaze:
1/2 cup semi-sweet chocolate chips
1/2 cup milk chocolate chips
3/4 cup heavy cream
1 teaspoon pure vanilla extract
1/3 cup sifted powdered sugar
Method:
Preheat oven to 325 degrees Fahrenheit.
Spray 10-cup bundt pan generously with nonstick spray.
In bowl of stand mixer, cream together peanut butter and butter.
Add sugar and beat for 5 minutes.
In separate bowl, whisk together the flour, baking powder and salt - set aside.
Add eggs, 1 at a time, and vanilla to butter and sugar mixture and beat until well combined.
Add dry ingredients a little at a time, beating just until incorporated.
Stir in chocolate chips on low.
Spoon batter into prepared bundt pan.
Smooth top of batter with spatula.
Tap the pan a couple of times on counter to ensure any air pockets settle.
Bake for 1 hour and check the cake to make sure it is not browning too quickly.
Cover loosely with foil if it is browing on the outside and not done on the inside... and bake 10-20 additional minutes or until toothpick inserted into the center comes out clean.
Allow cake to cool for 20 minutes then flip it onto a rack or platter and let it cool completely.
Glaze:
In top of double boiler, combine cream and chocolate, whisking continuously over simmering water.
When completely smooth, remove from heat and whisk in vanilla.
Sift sugar in thirds over the ganache and whisk until smooth.
When cake is completely cool, slide wax paper pieces under edges of cake to catch the ganache over-spill.
Spoon ganache over cake allowing to drip down sides and center.
Wait until ganache is setting up (maybe 10-15 minutes) and carefully remove wax paper from under cake.
The cake was incredibly tasty. I think I over-baked it though - I let it go the entire hour and 20 minutes and was evaluating doneness by color. The edges of the cake were almost chewy (tasty but chewy) - the crumb was dense and marvelous...I almost think this would have been more appropriate in a sheet pan and served as brownies (or blondies I guess). I had to saw through the crust when serving. Everyone said it tasted good - but the teen said it was too "hard" on the outside - yet my sister loved the "crust" and picked it off of my son's piece and ate it. I had a piece for breakfast this morning (bad girl, bad girl) with my coffee...it was really delicious and had softened a bit over night. This might be one of those cakes that tastes even better a couple of days down the road. It's really
rich
- a small piece is just right - the people taking big pieces couldn't finish their pieces - just so darn rich! If I make it again, I'll reduce the cooking time. I think I am going to try this in a sheet pan, though, and serve it like a bar cookie - it's
that
dense. Or maybe a mini cupcake...that could be a really good thing!
Sounds like a potential addition to my Christmas cookie trays!
Bon Appetit, Y'all!
SHARED WITH: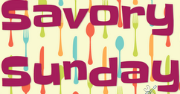 Everyday Sisters Sharing Sundays #17