Apple Strudel with Phyllo
Ingredients:
1 large Granny Smith Apple
1/2 cup brown sugar (NOT packed - loose measure)
1 teaspoon ground cinnamon
1/4 teaspoon freshly ground nutmeg
1/2 tablespoon AP flour
1 teaspoon pure vanilla extract
pinch of kosher salt
6 pieces of Phyllo Dough - thawed in refrigerator
1/4 cup melted butter
Cinnamon Sugar for sprinkling
Method:
Preheat oven to 350 degrees Fahrenheit.
Peel and core the apple, quarter, and slice very thinly.
In a medium bowl, stir together brown sugar, cinnamon, nutmeg, salt, flour, and vanilla extract.
Gently toss apple slices in sugar mixture and set aside while preparing phyllo.
Lay one slice of the paper-thin dough on work surface and brush sides with melted butter then brush butter over the inside portion of the dough. Lay another piece on top of the buttered piece, and repeat process for a total of 6 pieces. Ensure you keep the waiting pieces covered with a lightly damp towel or in plastic wrap. It dries out quickly.
With the rectangle laying with the long edge facing you, lay the apple slices out in two layers about 1 1/2 inches from the bottom and end edges.
Once apples are on dough, carefully pull the short ends up and over the apples.
Then take the long edge and pull it carefully up over the edge of the apples. Pull the far edge up and over (all sides covered now) and flip the packet over and over again until completely encapsulated.
Use the bit of butter left to brush the entire outside of the packet and carefully place it on a baking sheet covered with parchment or a Sil-pat.
Sprinkle top with cinnamon sugar.
Allow to cool before slicing and serving.
I served it with a little bit of vanilla ice cream...it was delicious! Crunchy on the outside, tender on the inside. Really quite simple!
Bon Appetit, Y'all!!!
SHARED WITH: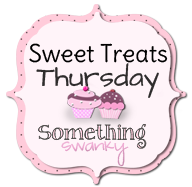 KB and WHITESNAKE's Simply Delish Saturday